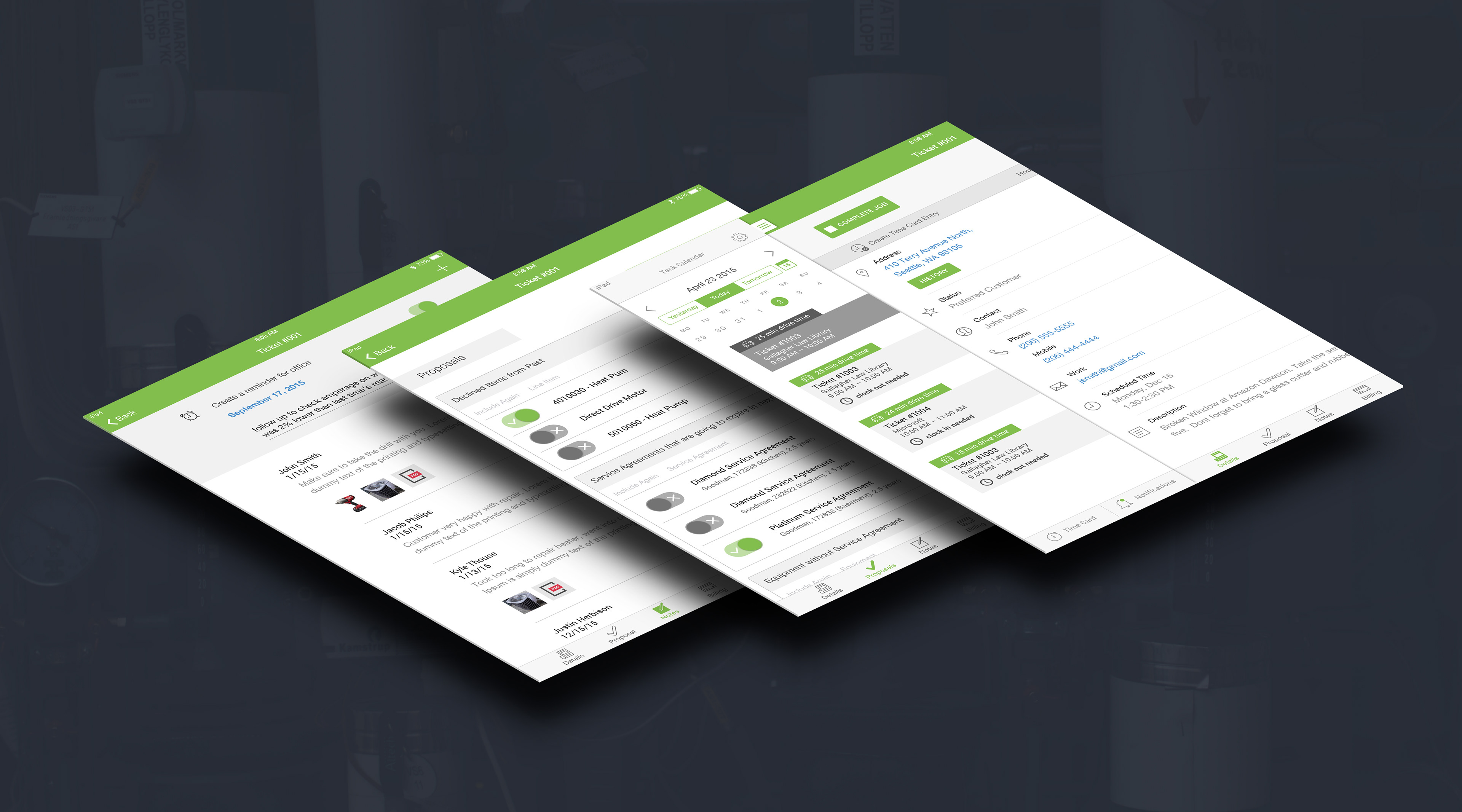 Many small to medium sized field service businesses face limited growth due to outdated, desktop-based software, leading to: 
2. inefficient operations 
A mobile-first platform that empowers field services technicians to work more efficiently in the field.
Lead iOS UX Designer, Visual Designer, User Researcher, IA Designer, Customer Support and On-boarding
Illustrator, Photoshop, Invision
My first step in the research process was to conduct in person interviews with our users to understand their goals and behaviors.  I also wanted to gauge their familiarity with technology and mobile patterns.  After speaking with over a dozen service technicians across different companies, I was able to produce the following persona:

Once the user persona had been established, the next step was to understand their needs/requirements by examining their current workflow(s). This also allowed me to see common pain points  and user requirements needed for a mobile field service app.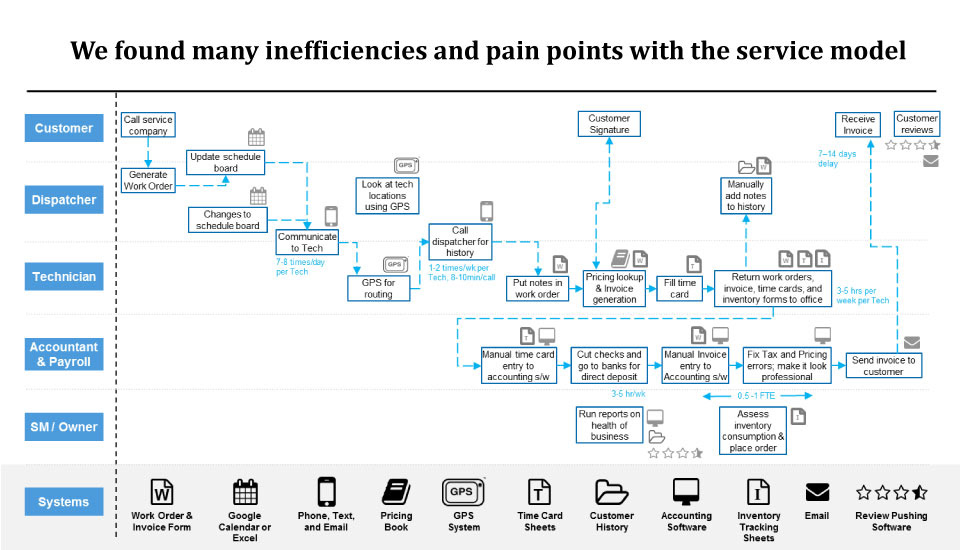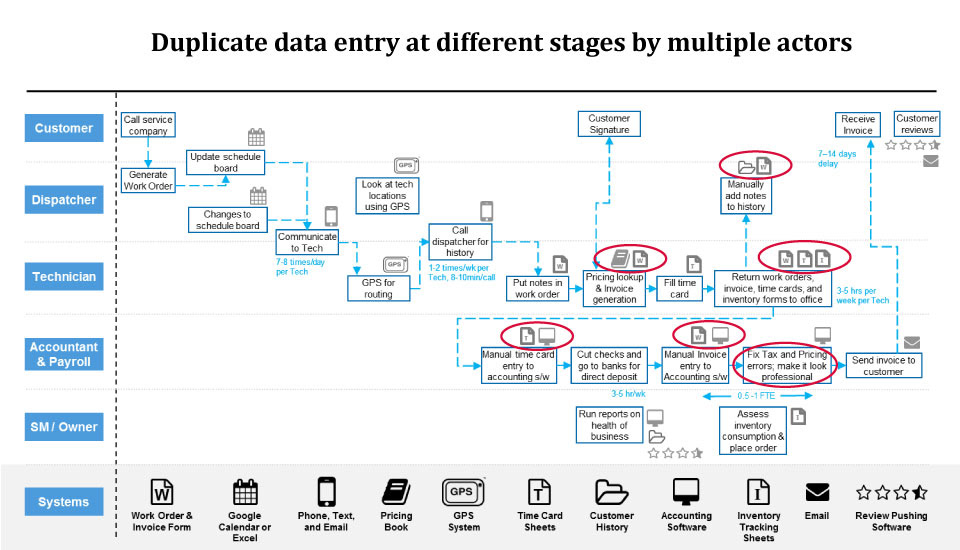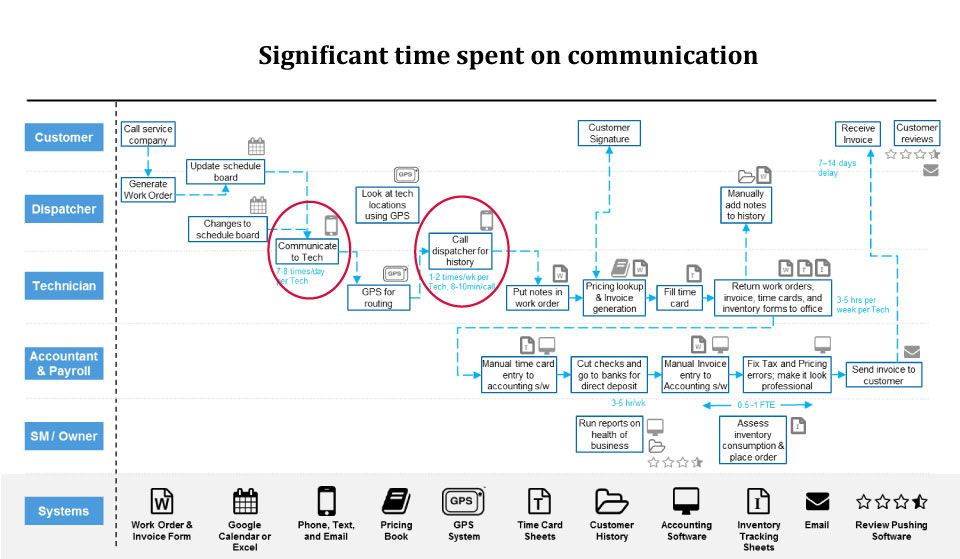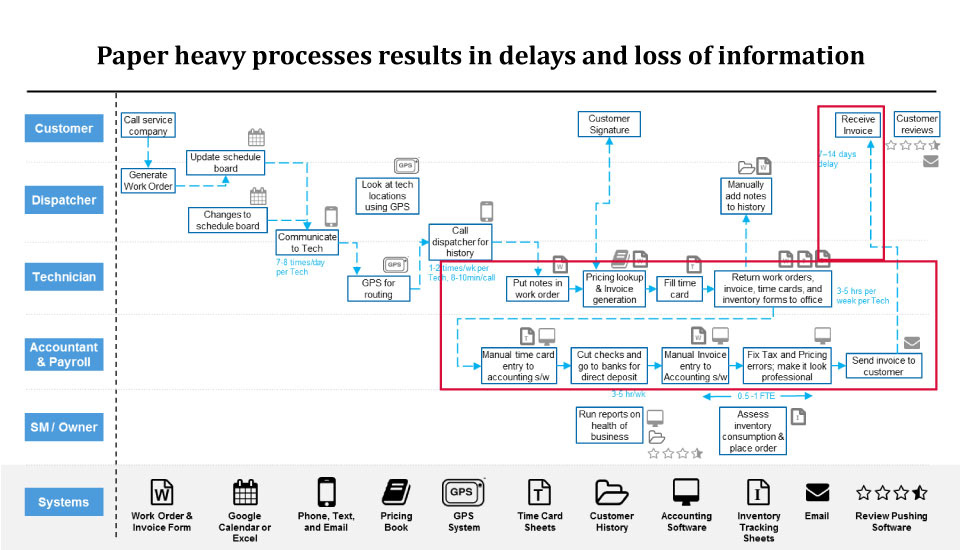 By focusing on the role of the technician, I compiled the following list of requirements based on the user persona and workflows.
1) Simple and intuitive UI/UX for non-tech savvy technicians with little to no background using an iPad.
2) A feature set and navigation that mimicked their real life workflow.  This included: note and equipment capture, checklist and form creation, estimate and invoice creation and finally sales enablement. 
3) Replace paper based operations with digital alternatives to reduce duplicate entry and sharing of data.
Once the user persona, workflow and requirements were understood, I created a sitemap to demonstrate my intended approach on meeting the user requirements.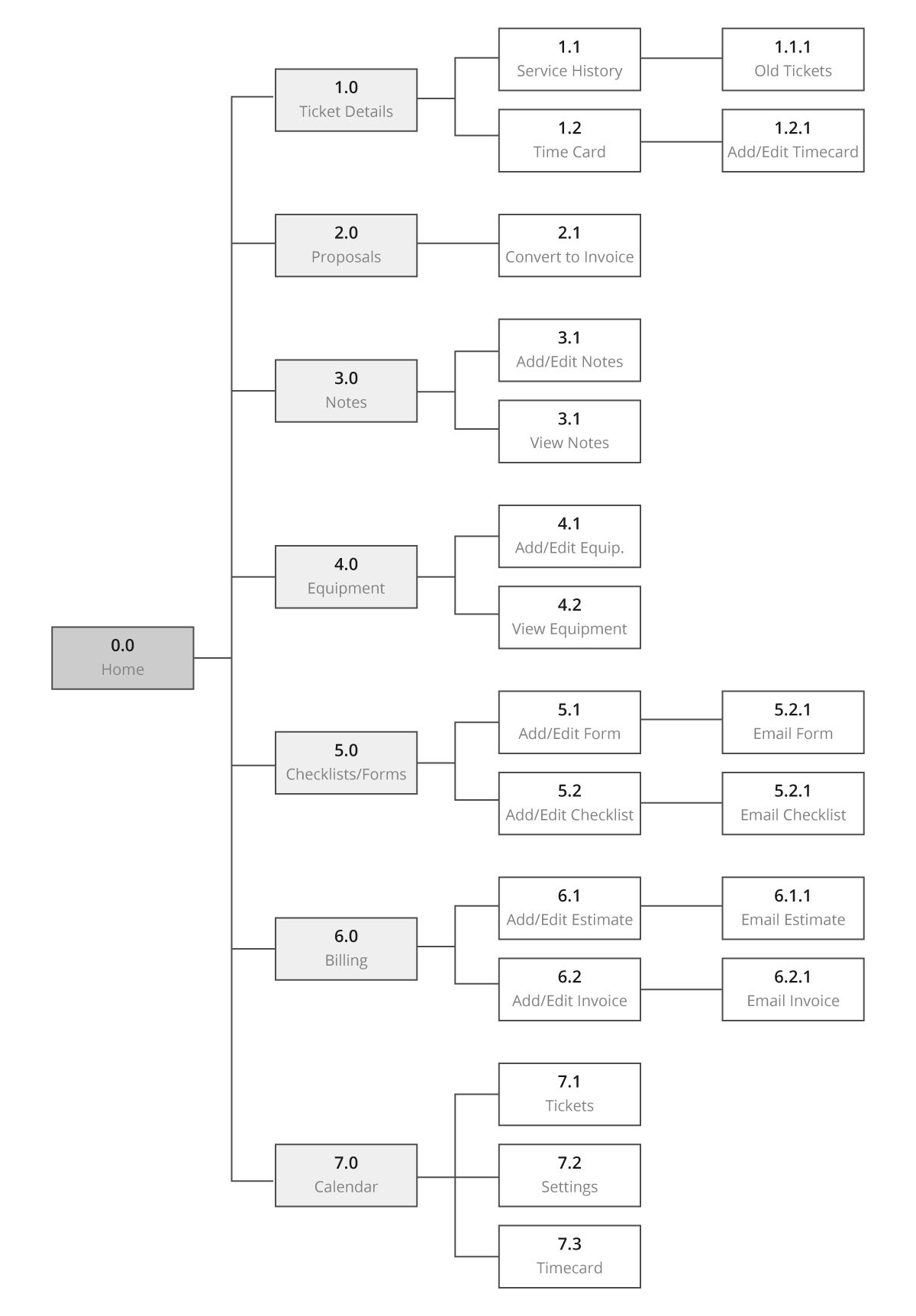 Ticket Detail Screen:
The ticket detail view displays all the relevant information for a users current job.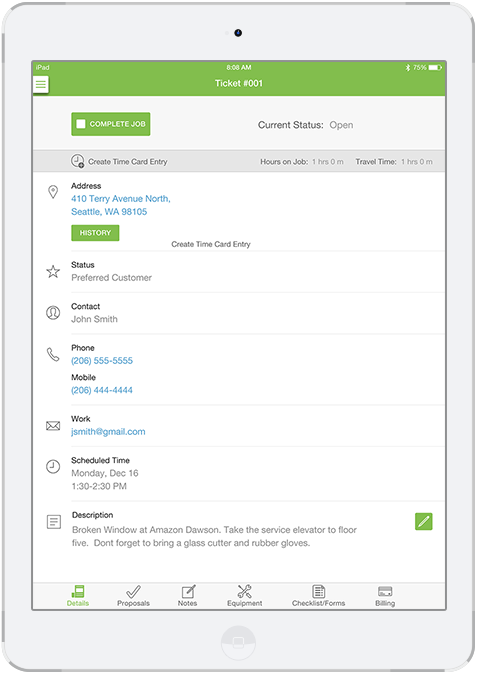 Calendar Tab:
Quick access to job schedule via pull out calendar tab.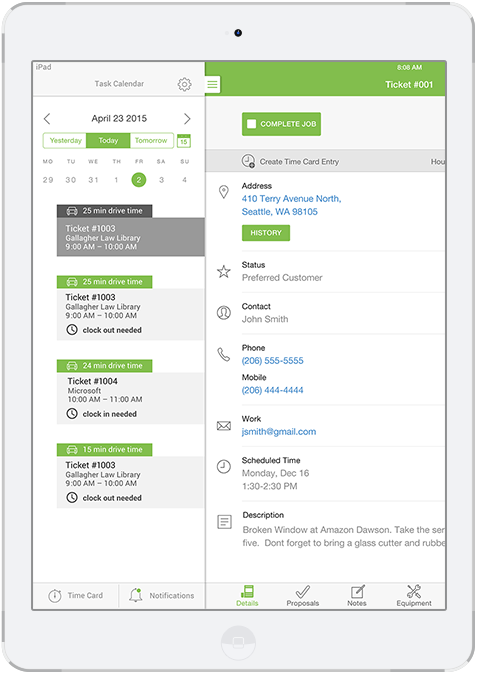 Service History Screen:
See the service history for a customer in a timeline view.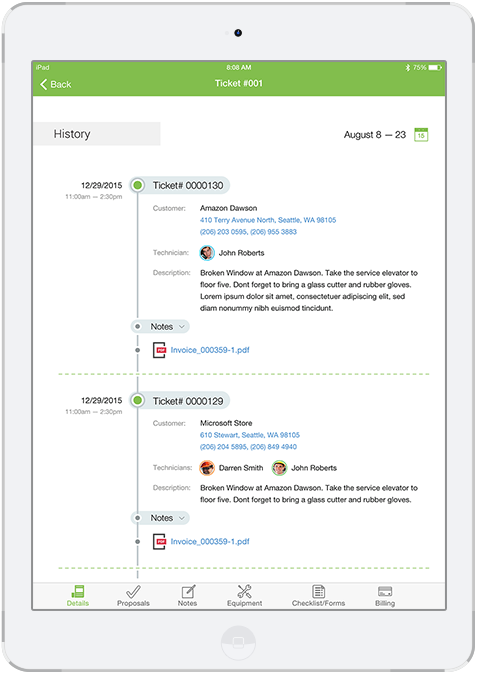 Notes Screen:
Capture notes and set reminders.  Two way data sync between iOS and web app.
Add Note Screen:
Attach photos and assign tasks to your notes for better team communication.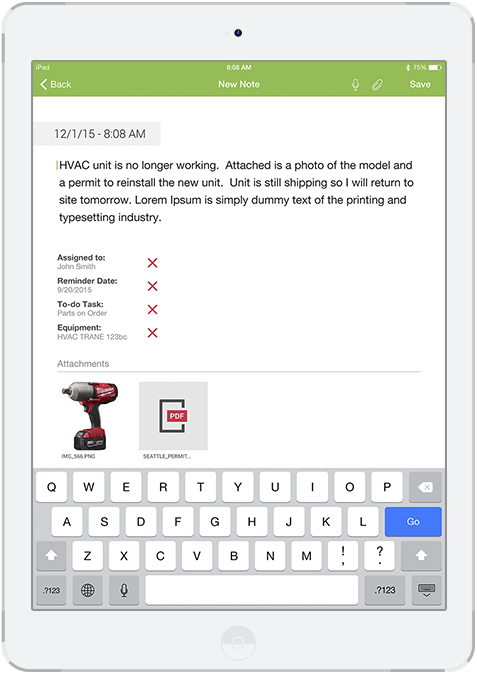 Equipment Screen:
Easily keep track of installed equipment and installation info.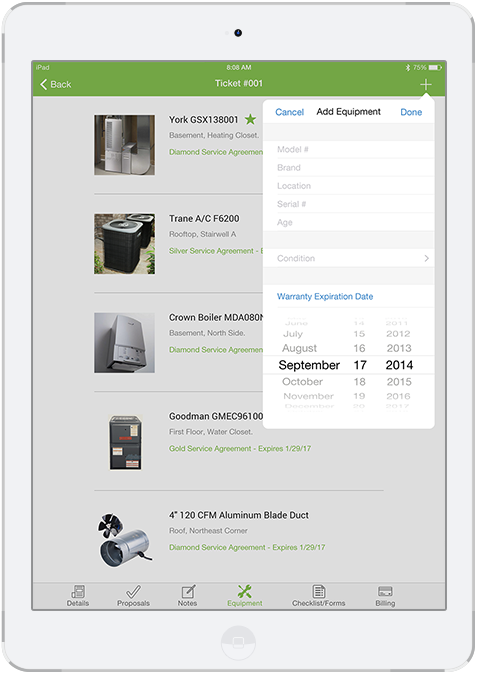 Billing Screen:
Capture estimates and invoices while out in the field. 
Invoicing Screen:
Supports custom and flat rate pricing schemes. User can also apply custom discounts and tax rates are applied automatically based on zipcode using Avalara's AvaTax API.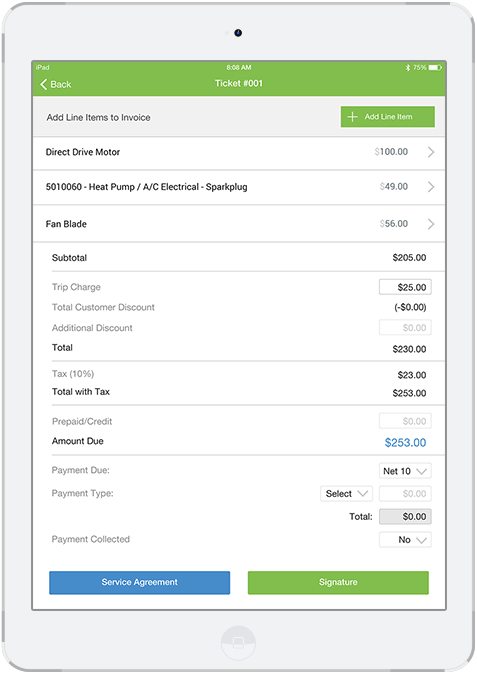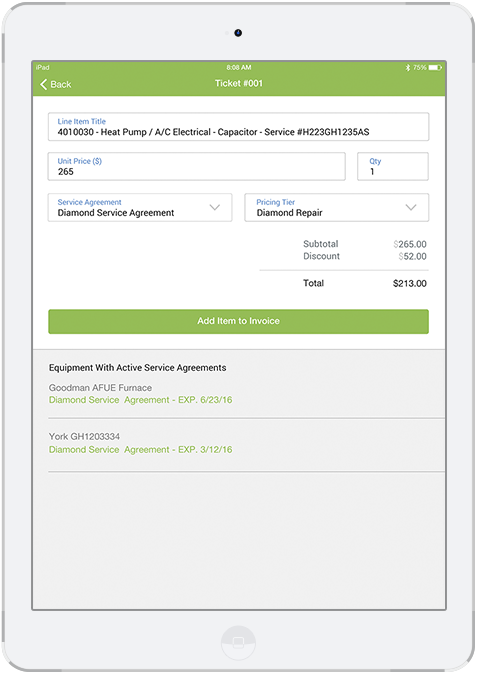 Flat Rate Search:
 Quickly create an invoice using flat rate item search.  Reduce time spent manually combing through a price book.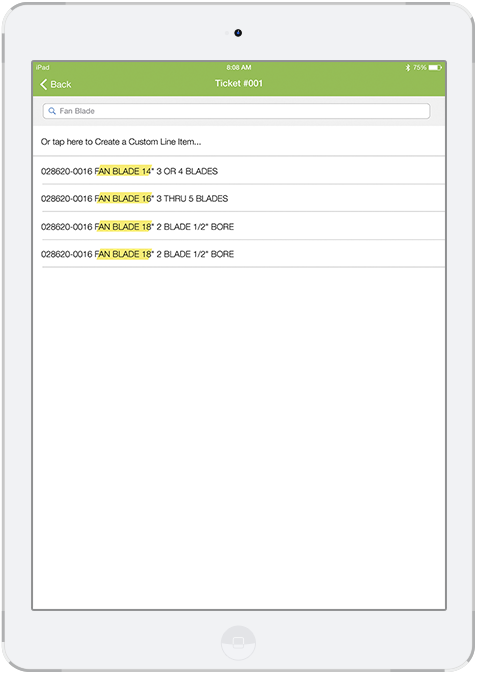 Service Agreement Screen:
Create service agreements in the field, generating extra revenue.